Exciting times are ahead for WordPress users! The upcoming WordPress 6.4 update is on the horizon, and it's bringing some interesting features and enhancements. WordPress 6.4 is planned to be released on November 7th, 2023. So, what can you expect from this release? From a brand-new theme to make your site shine to several blocks that'll make editing easier, there's a lot to look forward to. And that's not all; imagine showing off your images in a whole new light and enjoying a faster, smoother website. Curious? Let's have a quick look at what's coming!
Many fixes and performance improvements
First off, WordPress 6.4 isn't just about new features; it's also about polishing the existing ones. This update addresses numerous bugs, enhancing overall performance and stability. Whether you're a developer or a casual user, these tweaks contribute to a smoother, more reliable WordPress experience.
A new default theme: Twenty Twenty-Four
And say hello to a fresh face: the Twenty Twenty-Four theme. This new addition is all about giving your website a clean and modern look. Whether you're starting fresh or thinking of a makeover, this theme is something to get excited about!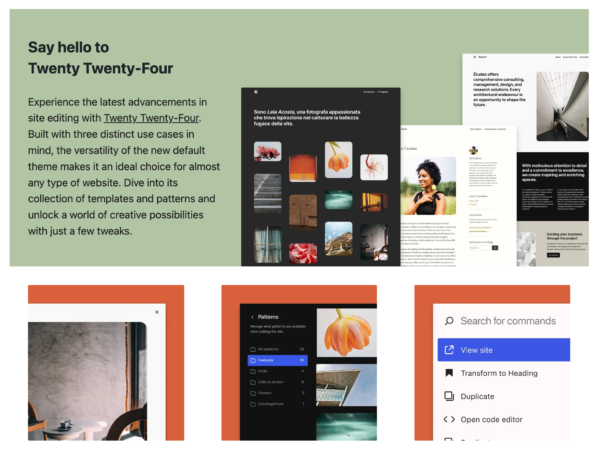 With three different use cases in mind, this theme comes with lots of patterns and templates that help you build pages in a matter of seconds. The use cases that they chose are creating a website as an entrepreneur/small business owner, a photographer/artist, or a writer/blogger. But even if you have a website outside of those use cases, the variety of patterns will most likely offer you a few great options to create engaging and good-looking pages.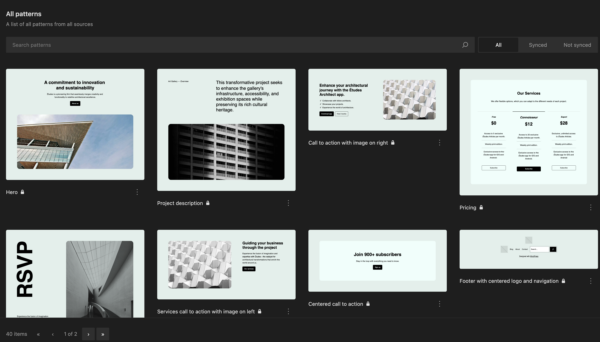 Enhancements to blocks
The block editor continues to evolve with improvements that promise a more intuitive building experience. This update introduces background images for group blocks, renaming of group blocks in the list view, and more. These enhancements aim to streamline content creation, allowing you to build rich, dynamic pages and posts with ease.
Users can now also add categories to their block patterns. This is an update to a feature that was added in 6.3, where users can create and save their own block patterns in the editor. Paragraphs, headings, next and previous links and footnotes have a new option for vertical text. This feature has to be enabled by the theme.
Lightbox for images
WordPress 6.4 understands that visuals are at the heart of any good story. With the new lightbox feature, your images can now be viewed in a larger format when people click on the image. Which can help you offer great images without losing too much room and pushing down other content.
Renaming group blocks and more
Organization is key, especially when working with complex page structures. The ability to rename group blocks directly within the list view is a game-changer for site builders, allowing for better management and identification, ultimately leading to a more efficient building process.
Background images for group blocks
Creativity knows no bounds with WordPress 6.4. Now, you can set background images for your group blocks, adding an extra layer of aesthetic appeal to your sections. This feature is perfect for creating visually striking hero sections, banners, or any other segment that needs a touch of creativity.

Many new developer tools
Attention, developers! Prepare for a slew of tools designed to make your coding life easier. From advanced block hooks to configurable typography controls, WordPress 6.4 is set to boost your development capabilities, offering more flexibility and control in crafting online experiences.
Nofollow link setting
The Advanced link settings has a new option: "Mark as nofollow". To use the option you first have to add a text block, for example, a paragraph. Add the link via the block toolbar, select the link again, and click on the pen icon to open the options. Next click on the button that says "Advanced" to open the advanced panel, and check the checkbox "Mark as nofollow".
WordPress 6.4: Coming soon!
WordPress 6.4 is packed with features designed to improve usability, enhance aesthetics, and provide developers with advanced tools. Whether you're looking to build a more dynamic website or create content effortlessly, the new WordPress is here to make your digital experience better than ever. Like we said, you can expect this update on the 7th of November, so mark that date in your calendar to enjoy all these new features!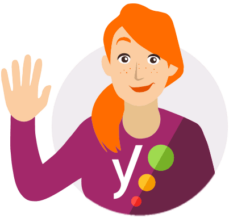 Did you know that Yoast has its very own WordPress core team? This group of experts helps make WordPress better. They fix problems, suggest new features, and work with people from all over the world to make the platform easier and more enjoyable for everyone. It's part of Yoast's promise to build a stronger, user-friendly internet together!
Read more: WordPress is 20 years old: The CMS that revolutionized the web! »
The post WordPress 6.4: A sneak peek at what's coming up appeared first on Yoast.