YoastCon 2023 is right around the corner and we can't wait for you to hear from our fantastic lineup of speakers. They will be sharing their expertise on a range of topics to help take your digital marketing to the next level. Will you join the greatest experts in the world of SEO on Thursday, May 11th, in Nijmegen? Here's a quick rundown of some of the speakers and their presentations.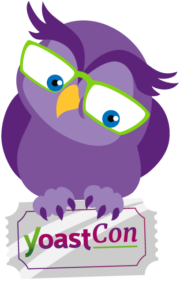 Bring a friend at 30% off!
Share the YoastCon experience! Bring a colleague/friend/relative and save 30% on a second YoastCon ticket! Simply get a ticket yourself and we'll send you your unique discount code to share.
The absolute top of the SEO industry
If you looking to take your SEO knowledge to the next level and achieve your business goals, YoastCon 2023 is the perfect opportunity to do so! You'll learn from the best SEO experts in the world, including the current #1 and #2 in SEO, who will share their expert insights and strategies on our main stage. Plus, a representative from Google will be joining us for an interactive fireside chat. Don't miss this awesome opportunity!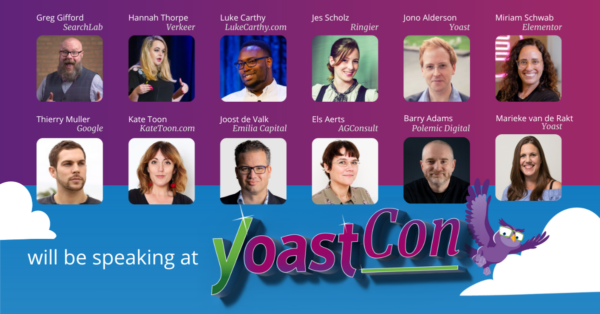 More info & tickets YoastCon ▸
The world champions in SEO
One of our speakers is Jes Scholz, currently ranked #1 in the world championship SEO. She will talk about "Google's glow up: Why you need to optimize beyond search." As the Head of SEO at Ringier, Jes has a deep understanding of Google's ecosystem and will share her insights on why it's important to optimize beyond search. She will convince you why you need to stop running in the rat race for rankings and focus optimizations on the bigger picture.
Our own Jono Alderson, currently ranked #2 in the world championship SEO, will provide a behind-the-scenes look at Yoast SEO. As head of SEO at Yoast, Jono has unique insights into how Yoast SEO works. And how to get the most out of it. He has tons of tips on how to fix websites, implement growth strategies, prepare for the future and win markets!
The future of search
The web, and in fact, humanity, is at a crossroads. We're struggling to keep our planet healthy. We, as creators of the web, have a responsibility to be conscious about what we do. The recent developments in AI, for example, make creating content and in fact, websites and code, easier and easier. But with every new develoipment, we have to keep asking ourselves one simple question: Does this make the web better?
In their talk, Joost de Valk (Founder of Yoast & partner at Emilia Capital) and Marieke van de Rakt (Chief Growth Officer at Yoast and partner at Emilia Capital) will dive in and ask the questions that need to be answered by content creators and web developers.
Get as close to the source as possible and join the fireside chat with Googler Thierry Muller
Thierry Muller is part of the Web Platform team at Google. During a fireside chat, we'll talk to him about the state of performance on the web, user experience, and whether WordPress should worry as it is falling behind on performance. He'll also share a few first thoughts on how AI could make its way into web development and performance. Don't miss out and learn more about what Google is doing to help site owners make the right decisions.
YoastCon for everyone!
From copywriting & local SEO…
A well-written sales page, email series, chatbot, or video can sell your products and services while you sleep. Let Kate Toon tell you all about conversion copywriting tactics! Or learn all about local SEO during Greg Gifford's talk and leave with a detailed playbook that outlines specific strategies and tactics that will help you dominate local search results for 2023 and beyond.
… to news SEO & GA4
News takes a special place in Google's ecosystem. Users expect Google to show the latest and best articles on any given topic. This provides us with detailed insights into Google's crawling and indexing ecosystem and the signals it uses to determine authority and expertise. Let Barry Adams share (almost) all he has learned about Google's inner workings.
Want to learn how to catch huge opportunities in the world of ecommerce? Luke Carthy tells you exactly how you can use Google Analytics 4 (GA4) to collect custom and super-powerful data to boost conversion and grow sales.
User research, WordPress and SEO agency landscape
User research expert Els Aerts tells you all about 'The Good, the Bad and the Ugly of user research'. In this talk, she highlights the most important pitfalls to be aware of when doing research.
And in Miriam Schwab's talk, she'll examine five trends that keep WordPress relevant and exciting to a wide range of users. Trends that can play a role in keeping WordPress the leading CMS for many years to come.
If you want to dive deeper into the SEO agency landscape, Hannah Thorpe will talk about what to do – and what not to do – whilst setting up your SEO team and how to tackle those common problems. This actionable talk is great if you're looking for inspiration on what makes an agency successful.
YoastCon workshops: put theory into practice straight away
Want to sharpen your keyword research skills or enhance your SEO copywriting? Attending the YoastCon workshops is your chance to learn from the best in the industry. Seats for these workshops are filling up quickly, so make sure to get your hands on your YoastCon ticket and register for the workshop of your choice!
Don't miss out on all these top-notch talks
Are you ready to be blown away by the amazing talks at YoastCon? With such a fantastic lineup of topics, we're curious – what are you most excited about? Get your thinking cap on and take in this unforgettable experience at YoastCon 2023 in Nijmegen! And, don't forget, you can get 30% off every second ticket to bring a friend and share your YoastCon experience!
Get your ticket(s)for YoastCon ▸
The post Don't miss these amazing speakers at YoastCon 2023! appeared first on Yoast.