Earlier this year, we added a new feature to our Premium plugin, the inclusive language analysis. Now we're excited to say that we're also bringing it to Yoast SEO Free. Why? Because we believe that using inclusive language is essential in making the web a better place.
Taking a stance
We believe that inclusive language is so important that we wanted to make sure that everyone (who wants to) can use this feature. Not only does it make you less likely to exclude people and alienate them with your content, but it's also becoming more important in SEO every day. If you want to take advantage of this new feature, head to your features settings in Yoast SEO to turn it on. This is also available in Yoast SEO for Shopify.
Does inclusive language matter for SEO?
You might wonder why we added a check for inclusive language in Yoast SEO, a product focused on improving your SEO. Using inclusive language helps you reach a wider audience and avoid alienating potential customers. It aims to create content that's accessible and understandable to as many people as possible. This leads to more people returning to your website, sharing your content, and even buying what you sell.
It simply helps you to write content that doesn't exclude people. Content that doesn't alienate or even offend a portion of your audience. Which, especially as a business owner (or website owner), you don't want to do. And that can happen easily without you even realizing it. Google also points out the importance of using inclusive language in your content. You can learn more about this in our post about inclusive language and SEO.
The inclusive language analysis in Yoast SEO
This new feature works pretty similarly to our other analyses by giving you real-time feedback on your text with the use of traffic lights. Here is an example of what it looks like when in use:

It's up to you whether you activate the analysis
It's good to know that the inclusive language analysis is opt-in, so it won't be activated by default. It's up to you whether you want to get feedback on the inclusiveness of your content. You can activate it by going to Yoast SEO > General > Features and toggling the inclusive language analysis switch. If you choose not to use this feature, the SEO and readability analyses won't change.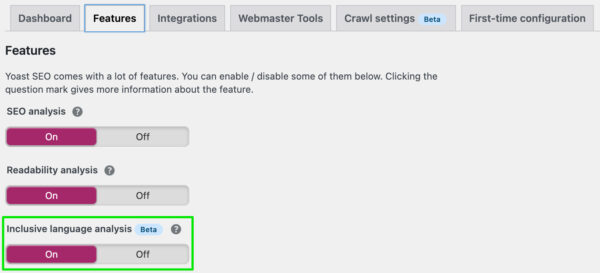 We strongly suggest using it as it can benefit your SEO and helps you make your content relatable for a bigger audience. The goal of inclusive language is to avoid excluding or alienating people. So, this new analysis helps you create content that everyone can enjoy and that's less likely to offend anyone!
Other improvements and fixes
Of course, we've also worked on improvements for our SEO plugins. For instance, we've improved the subheading distribution assessment to make it easier to find those overlong paragraphs. Now, hit the eye icon to highlight the subheading where the piece of text appears. Very helpful when working on long articles! The same assessment also keeps an eye on your intro and warns you if you start your article with an overly long introduction.

We've improved our Integrations page, making it clearer which WordPress plugins hook into our Schema API. This means that the structured data output by these plugins will be neatly tied into the graph Yoast SEO generates for the site. Together, this forms a very comprehensive Schema solution. We urge other plugin developers to come on board — check out our Schema documentation!
Improved admin bar menu
Today, we're cleaning up the admin bar menu and expanding the range of options. If you are a Yoast SEO Premium user, you can open up the front-end SEO inspector instantly to check the SEO settings of the page you are currently on. You'll also find the focus keyphrase you set for this page and the overall readability and SEO scores in the famous colored dots. Plus, you can find quick links that let you send the page to be analyzed by external tools, like Google's Rich Results Test or PageSpeed Insights. Of course, you also access the Yoast SEO settings from there.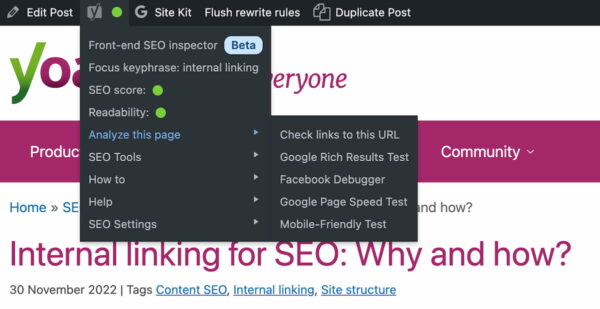 Of course, there's more. We've added a new Website name text field in the Site representation step of the First-time configuration. You can also set this in the Search Appearance section of the settings.
We've also worked on improving compatibility with PHP 8.2. In addition, we now ask users to update to a recent version of PHP, as we are dropping support for PHP < 7.2 starting March 1st, 2023.
Enjoy these Yoast SEO updates
In this release, we've added support for our inclusive language analyses to our free Yoast SEO version. Try it out and see if you can write more inclusive content that will help you reach a broader audience.
The post New in Yoast SEO Free: the inclusive language analysis appeared first on Yoast.