We just released Yoast SEO 20.5, which has many enhancements and (security) fixes! Our team has been working hard to implement these changes to enhance your experience and help make your SEO journey smoother. In this post, we'll tell you all about the latest release.
Improvements in Yoast SEO 20.5
One of the main enhancements in this release is the updated Google SERP preview. We've updated our mobile and desktop snippet previews to align with Google's current styling. This is important because you can now check how enticing your snippets look. It also helps you to see if you've optimized them properly for the current Google search results pages.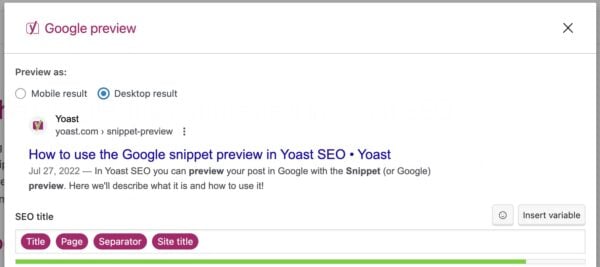 We've updated our database indexing system. This could contain orphaned items due to posts, terms, or users being deleted while Yoast SEO was deactivated. Every time a plugin is activated, we run a cleanup action. This helps to ensure the database table is as clean and efficient as possible.
We've also improved the recognition of keyphrases starting with a period, such as ".net developer," in the keyphrase in title assessment. This ensures that Yoast SEO can accurately read and assess your content, even when punctuation marks are involved.
We've addressed several bugs in this release. One of those led to a fatal error when upgrading Yoast SEO while also having Local SEO active. We've also improved how we tidy up our database records when users are deleted. We've also dropped compatibility with outdated PHP versions, ensuring you use the most up-to-date and secure software for your website.
Finally, we've modified the first-time configuration to highlight the availability of a free webinar to get the most out of Yoast SEO. This webinar is there to help new Yoast SEO users find their way around the plugin and get started on their SEO journey. They'll have the chance to watch a dedicated walk-through video and have a live Q&A session with some of our experts!
Security fixes
We've improved our Yoast SEO Premium and Local SEO plugins. These updates address several security vulnerabilities identified and reported by the WordPress security service Patchstack and our security/development team. We take security very seriously and are committed to ensuring our products are secure for all users.
With this update, we have addressed and fixed these issues. We recommend that all users update their Yoast SEO Premium and Local SEO plugins to this latest version as soon as possible to stay protected from any potential security threats.
Big thanks to Patchstack for promptly identifying and reporting this issue. We also thank our senior developers, Paolo Scala, Leonidas Milosis, and Enrico Battocchi, for finding and resolving these issues. Our users' security is our top priority, and we will continue working tirelessly to ensure our product remains safe and secure.
We strive to be comprehensive in our security measures and acknowledge that we sometimes might miss some issues. This is where we rely on you, our users, and the security community to assist us by reporting any security concerns found to us directly. We have a security program with guidelines for submission and rewards for cooperation. We encourage everyone to help us uphold the integrity of our products and keep our community secure.
Yoast SEO 20.5: Update now!
Yoast SEO 20.5 is available today. In this release, we made several improvements and brought our Google to the latest UX changes from the SERPs. We've also fixed some security-related issues to make the plugin more secure.
That's it for this release. Happy updating!
The post Yoast SEO 20.5: Improvements and security fixes appeared first on Yoast.